Get a Medical
Certificate Online in minutes
✔️ Sick Certificate, Fitness Certificate, Recovery Certificate
✔️ Accepted by airlines, banks, public offices, colleges & IT companies
✔️ Handwritten certificate & shipping options available
✔️ From the comfort of your home
✔️ Get a soft copy within 30 minutes*
✔️ Abiding by NMC & WHO Guidelines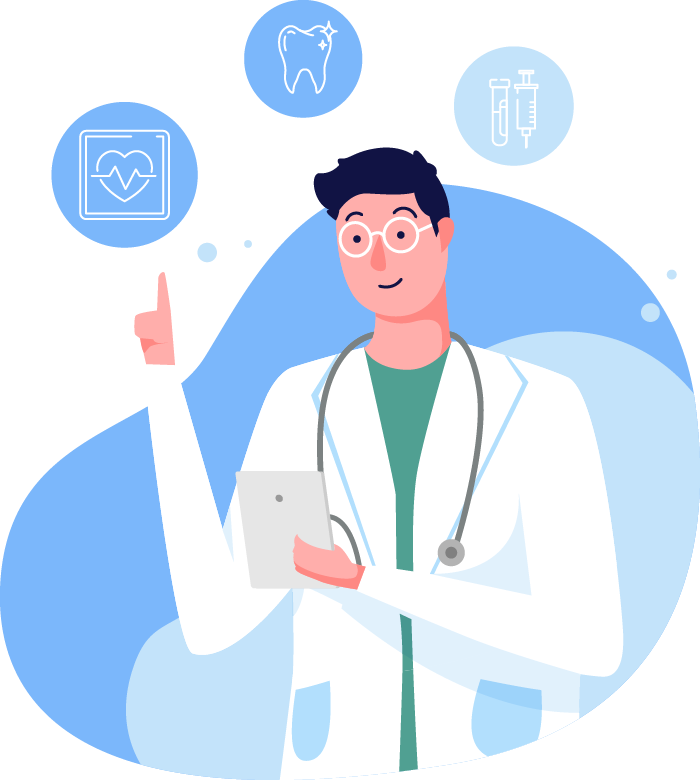 Authentic
From Registered Indian Medical Practitioners only 
Secure
Your data is secure and encrypted
Convenient
Manage your health when it suits you, from anywhere
Online Medical Certificates that work for you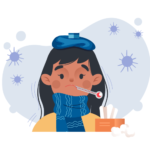 When you're not feeling well, the prospect of booking and attending a doctor's appointment at a hospital or clinic can be daunting. Instead, obtain a sick leave certificate online from the comfort of your own home in just a few minutes.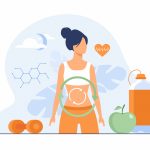 Require a fitness certificate to confirm your good health for your office, college or sports? Apply for an online fitness certificate, share some basic information, and receive your medical fitness certificate quickly and conveniently.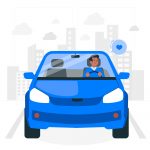 Had a great experience in getting medical certificates with them. I had a emergency and they responded even at night 10PM!!! I never experienced such a great support. Highly recommended.
I required a medical certificate and they were very professional, they called and inquired about the symptoms. They went above and beyond and gave it to me in the specific format required by my organisation.
Very professional team. They really provide a genuine and hassle-free service. I had to submit a certificate in my office and has just one hour of time and they still helped me take my case on priority.
Get Your Medical Certificate In 3 Easy Steps!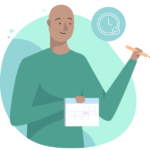 Step 1 : Submit your request
Complete our quick medical questionnaire and submit your request for the medical certificate.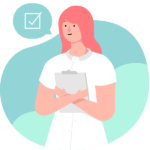 Step 2: Consultation by a certified doctor
Our doctor will review your request and reach out to you.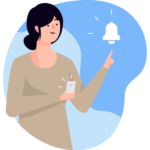 Step 3 : Receive your certificate
Get your medical certificate via WhatsApp within 30 minutes* and the physical copy via post within 8-10 business days, if you have opted for it.
Everything about Medical Certificates
मेडिकल सर्टिफिकेट की सारी जानकारी और इसे ऑनलाइन कैसे पाएं  
Consult 700+ Specialist Doctors Online
Frequently Asked Questions
When will I receive my medical certificate?
You will receive your digital medical certificates within 30 mins* of submitting the medical form and hard copy within 3-4 working days*.
Will my employer/ education institute accept my certificate?
Yes, all our medical notes are as per NMC & WHO guidelines. If your employer/ education institute has any clarifications they could reach out to the coordinates of the Doctor on the medical certificate issued. 
Which cities/states do you operate in?
We operate across India. We have partner clinic locations in cities like Tbilisi, Mumbai, Delhi NCR, Bengaluru, Pune, Hyderabad, Indore, and Cuttack from where Doctors consult. 
Can a Doctor from other state issue me a medical certificate?
A Registered Medical Practioner or Doctor who has been recognized by any state or national medical council in India is eligible to issue a medical certificate to any person based on their discretion.
Are these medical certificates genuine?
These medical certificates are generated following all protocols of the NMC & WHO and given by certified Indian doctors. They are 100% legit. We do not provide fake medical certificates or make any reports. For more details on the validity of a medical certificate issued by us click here.
Is there an upper limit of the sick leaves one can get?
The number of sick leaves a person can be sanctioned depends on the following factors:
The number of days you have mentioned in the form
The supporting medical documents that you can provide
The discretion of the doctor consulting the patient
Kindly note: The final decision w.r.t sick leaves are subject to the discretion of the consulting doctor and our medical compliance team. For more details do check our medical leave calculator. 
In which case do I need to visit a doctor physically or get online consultation?
If your condition is not improving despite taking all the measures suggested, then you need to visit a doctor physically.
How to make medical certificate for college?
Making a medical certificate for college is simple and authentic when you get it online. With studies and other assignments taking more time of students, they can opt for getting an online medical certificate with ease.
Colleges mostly request medical certificates as they are worried about the student's health and incase a student is severely ill it is very difficult for them to go to a local doctor or hospital/clinic to get it. In such times, getting a medical certificate online from medicalcertificate.in is extremely helpful and authentic.
Is there medical leave format for students?
Colleges have outlined various formats for medical leave certificates. The types of certificates requested by colleges generally are sick leave certificate and fitness certificates.
Download sample medical certificate formats 
Medical Certificate for College Leave or Sick Leave are certificates that outline your unavailability for college. The same is only valid if a registered medical practitioner with a valid registration number certifies about the medical condition of the patient. Most colleges look for handwritten medical certificates and prescriptions for authenticity too.
If there are specific formats for sick leave, our Doctors will be happy to help you with it too.
How to get fitness medical certificate?
Getting a fitness certificate in three easy steps – 
– Fill up the form on medicalcertificate.in
– Share your vitals (Blood pressure, height, and weight and a 15-sec full body video of you walking)
– Consult a registered medical practitioner on video who outlines your fitness
– In case you have a specific format that you want to get our Doctors will be happy to suggest the tests that are needed to outline the same.
What is a non-refundable product/service offered by medicalcertificate.in?
A non-refundable product/service refers to certain products/ services that are ineligible for a refund. If you have availed standalone doctor consultation or applied for a digital certificate on WhatsApp along with a doctor consultation for submission in India or abroad, these fall under the category of non-refundable products. Once you have made the payment for these products, if you decide to cancel or your case is rejected on any grounds as mentioned in our refund and cancellation policy, please note that no refund will be issued. For further information regarding non-refundable products, we recommend referring to our refund and cancellation policy.
How can I get CARA Adoption Fitness Certificate?
Here's how you can get your CARA Adoption Fitness Certificate:
Fill up the form
Share your necessary medical details (Height, Weight, Photo Proof of BP & Pulse a 15 secs full-body walking video)
Session for mental wellness
Get your CARA Adoption Fitness Certificate within minutes
How can I get FORM 1A RTO Fitness Certificate i.e. Driving Licence Fitness Certificate
Here's how you can get your FORM 1A RTO Fitness Certificate:
Share your necessary medical details and complete your tests
Get your Driving Licence Fitness Form 1A Certificate within minutes
Check the validity of the certificate!
We cannot share everything that was discussed due to doctor-patient confidentiality but our team will validate the details incase you have any concerns. You cannot self-verify your medical certificate. Only the organisation to which the medical certificate is addressed to can request a verification of a medical certificate through an official email id.
Email
care@medicalcertificate.in
Office Address
RMZ Latitude Commercial, Bellary Road, Hebbal, Bengaluru, Karnataka – 24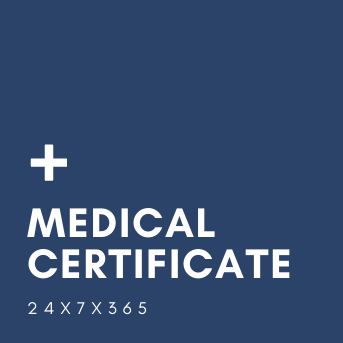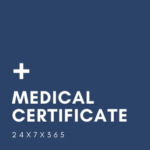 🌎 No. #1 online medical certificate issuance & telemedicine platform abiding by the NMC & WHO guidelines.
Startup Odisha Accredited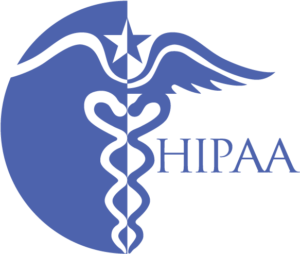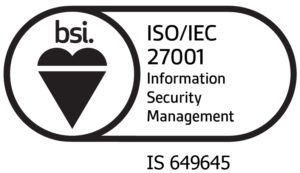 Global Office Address
Zviad Gamsakhurdia Embankment 34, 0105 Tbilisi, Georgia
City Clinic Locations (Powered by MediClinics)
Mediclinics Mumbai, Lotus Star, Andheri East Plot No. D-5 Road No. 20, Marol, MIDC, Andheri East, Mumbai, Maharashtra 400093 
Mediclinics Delhi NCR, Udyog Vihar 90b Delhi – Jaipur Expressway, Sector 18, Gurugram – 122001, Haryana
Mediclinics Hyderabad, Hitec City Madhapur LVS Arcade, 71, Jubilee Enclave, HITEC City, Hyderabad-500081, Telangana
Mediclinics Bengaluru, Outer Ring Road 512/10, Dhaaruni, Residency, Mahadevapura, Next to More Megastore, Bengaluru – 560048, Karnataka 
Mediclinics Pune, Yerwada 1st and 2nd Floor Sky Loft, Creaticity Mall, Survey No 190/192, Opposite Golf Course, Off Airport Rd, Shastrinagar, Yerawada, Pune- 411006, Maharashtra
Mediclinics Indore, Third floor, Sahil Infinite, Opp. Agrawal Public School, Bicholi Mardana, Indore- 452016, Madhya Pradesh
Mediclinics Cuttack, SmartMeds, Chandi Mandir Square, Buxi Bazar, Below Canara Bank, Cuttack- 753001, Odisha
Mediclinics Shadnagar, Keerthi Poly Clinic, Railway Station Road, Shadnagar – 509216, Telangana
Mediclinics Jaipur, S-27 Subhash Nagar Shopping Center, Shastri Nagar, Jaipur – 302016, Rajasthan,
A medical certificate is a document issued by a registered medical doctor or licensed medical practitioner after confirming the details of the patient through a thorough examination of the patient's health condition. A medical certificate has various uses, like showcasing a medical problem or sickness where the patient is unfit to perform or execute their duties. A medical certificate is also used to outline the general fitness of a patient which is mostly used for applying for jobs, admission into a school or university, clearance to fly or for adopting a child. An extended version of medical certificates is also outlined when a patient recovers from a certain ailment or a caretaker is taking care of the patient. A medical certificate is also a very private document as it contains sensitive information about the patient's health and should only be shared with necessary authorities or people.
Due to the sensitivity of the document, the consulting doctor must be well informed about the patient's health condition, the reason for which the patient is requesting it and the validity of the medical certificate. Post having all the facts, a doctor or a registered medical practitioner under their discretion is allowed to certify a medical certificate. They are bound by legal and professional obligations while issuing such certificates. Honesty, clarity, and accuracy are paramount, and practitioners should only endorse a diagnosis they wholeheartedly believe to be precise.
Recently, with the advent of telemedicine and the approval of the Government of India and the Medical Council of India, medical certificates can now be issued online. However, they must adhere to specific formats and guidelines established for doctors to authenticate them properly.
Who needs a Medical Certificate?
A medical certificate may be requested by a variety of people, such as employers, employees, students, athletes, travelers, and patients. Employers may require a medical certificate as proof of illness or injury when an employee needs to take time off work for medical reasons. Students may require medical certificates to have an excuse from classes or exams due to illness or injury. Prospective parents who are looking for adoption can also acquire medical certificates as proof of their fitness. Athletes may need to provide medical certificates to participate in sports or competitions. Certain countries or offices may require travelers to provide proof that they are fit to travel or to confirm that they are not carrying a contagious disease. Patients may need a medical certificate to obtain certain medical insurance and claims. Clients who are renewing their driving license also require a Form 1 A fitness certificate. The specific requirements for a medical certificate may vary depending on the situation and the jurisdiction in which it is being issued.
Who can issue a Medical Certificate?
A medical certificate can be issued by a registered medical practitioner who is authorized to make a diagnosis and provide medical treatment. The specific requirements vary depending on the purpose of the certificate and the jurisdiction in which it is being issued. In general, the registered medical practitioner must have a valid and current license to practice in their field and must have evaluated the patient's medical condition to the extent necessary to provide accurate information in the certificate. The certificate must also include the registered medical practitioner's signature, contact information, and any other relevant details about the patient's condition and treatment plan.
A medical certificate can only be issued in a certain format outlined by in the statutory guidelines. Be it students or employees from Government & Private sector companies all authorities follow a singular set of guidelines of a format for medical certificates. 
Medical Certificate Form for Students – 
The medical certificate format for students cannot be just any format but has to carry certain things to be valid. Though exam days are crucial times in a student's life, they can experience unexpected scenarios at any time. Any inconvenient event can lead to an illness or disability, even during exam times when they are expected to perform their best. So while a student can be absent from exams but they need to prove to the school/ university that their absence was justified. In this case, any healthcare center where a student was treated should give a medical certificate form. And it should state that a student was unable to attend the course due to healthcare reasons. 
Medical Certificate Form for Government and Private Employees 
Similarly for an employee, if an employee is missing office or on leave due to unavoidable circumstances or requesting to work from home. He/she needs to produce a medical certificate to support their medical issues. The medical document should be signed by the doctor who examined the patient and can claim that they could not attend school/college or office due to certain health reasons.
Format of a medical certificate is generally suggested to upload or submit in a pdf as it is uneditable and captures the correct details outlined by a Registered Doctor. For certain Government employees, there are specific formats outlined by the departments with certain guidelines. 
Doctors at MedicalCertificate.in are equipped to study the formats and guidelines and are happy to suggest the next course of action. For certain private employees of some renowned companies like Tata Consultancy Services or other IT companies, they have very specific formats of a medical certificate when joining or applying for maternity leave or requesting work from home.
The Different Types Of Medical Certificates Are –
Medical Certificate for Sick Leave

– A medical leave certificate issued by a Registered Medical Practitioner stating the medical reason for taking leave. Types of medical leave certificates we offer are as follows – a) Medical Leave Certificate for Work b) Medical Leave Certificate for University/College/School c) Medical Leave Certificate for Gym Membership Cancellation d) Medical Leave Certificate for Travel and Holiday Cancellation or general medical certificate for leave at office. 

Medical Certificate for Recovery

– A certificate issued by a Registered Medical Practitioner stating the person is no more suffering from the previous medical condition.

Medical Certificate for Caretaker

– A certificate issued by a Registered Medical Practioner for taking care of your loved ones.

Medical Certificate for Fitness –

A medical fitness certificate issued by a Registered Medical Practitioner after a Fitness examination stating fit for all activities. Types of medical fitness certificates we offer are as follows – a) Fit to Fly Medical Fitness Certificate b)  Fit to Work Medical Fitness Certificate c)  Fit to Adopt Medical Fitness Certificate d) Sports Medical Fitness Certificate e) Fit to Join Medical Fitness Certificate for University and Schools. 

Medical Certificate for Adoption –

A certificate issued by a Registered Medical Practitioner after a Fitness examination stating fit for adopting a child through Central Adoption Research Authority (CARA)

Medical Certificate for Form 1A Driving License Renewal

– A certificate issued by a Registered Empaneled Medical Practitioner after a Fitness examination stating fit for renewing their driving license. Our empaneled doctors share the Form 1A Medical Certificate only after examining the patient's eye and ear test. 

Medical Certificate for Work from Home – A medical document that outlines a patient's condition and suggests work from home in certain cases. 
Apart from these types of medical certificates, there are custom medical certificates where the format is pre-defined. A patient could get the required tests done and our doctors would stamp the certificate with a doctor's medical stamp based on your teleconsultation. 
Is an Online Medical Certificate Valid?
Any medical certificate issued in accordance with the Telemedicine Act of 2019 and National Medical Commission standards is regarded as legitimate and valid. We at Medical Certificate.in abide by the guidelines of the National Medical Commission and issue medical certificates following all regulations as per Tele Medicine Act, 2019. 
How to validate a medical certificate?
Validating a medical certificate involves verifying that the certificate is genuine and that it was issued by a registered medical practitioner. To do this checking the following things is important – 
Ideal things in the medical certificate that make it legitimate – 
Full name and address of the patient 

Organization to whom the medical certificate is addressed

Date from which the medical certificate is valid and the duration of the validity of the medical certificate

A clear outline of the diagnosis of the patient

Doctor contact details,  seal and signature 

Patient's signature on the medical certificate
For further checking on how the medical certificate was obtained 
Email or call the Doctor with the certificate number

The doctor should be able to verify if the certificate was issued by them or not
How to identify a fake medical certificate?
Fake medical certificates can be difficult to identify, but there are some signs that may indicate that they are not genuine. These include no contact information, no signature, unusual format, and no name, address, phone number, or email address. A genuine medical certificate should include a signature and official stamp with a registration number from the registered medical practitioner who issued it. As an intermediary, we condemn fake medical certificates and do not encourage the counterfeiting of falsified medical reports or duplicate medical certificates. All medical certificates are issued only after a tele-consultation. 
Get a Medical Certificate near me
With telemedicine companies like medicalcertificate.in it is easy to request for a medical certificate near me within a few clicks. Walking to the nearest store looks extremely affordable and easy but it is not as simple when you are sick or have a couple of things to take care of. With medicalcertificate.in you could request all types of medical certificates online and even consult Doctors to understand your requirement for a medical certificate. So get a medical certificate near me now in minutes from the comfort of your home. 
Get a medical certificate online in a few steps –
Step 1 – Log on to medicalcertificate.in to request an authentic medical certificate online
Step 2 – Fill out a form with your correct details
Step 3 – Make the payment
Step 4 – Schedule an appointment based on your convenience
Step 5 – The Doctor connects with you and does a consultation online
Step 6 – Post approval of the Doctor, the medical certificate is released on Whatsapp/Email or shipped by Post
With Medicalcertificate.in, get a medical certificate online in minutes wherever you are in India or across the world.
Be it in Mumbai Delhi Bangalore Hyderabad Ahmedabad Chennai Kolkata Surat Pune Jaipur Lucknow Kanpur Nagpur Indore Thane Bhopal Vishakhapatnam Pimpri-Chinchwad Patna Vadodara Ghaziabad Ludhiana Agra Nashik Ranchi Faridabad Meerut Rajkot Kalyan-Dombivli Vasai-Virar Varanasi Srinagar Aurangabad Dhanbad Gurgaon Amritsar Navi Mumbai Allahabad Howrah Gwalior Jabalpur Coimbatore Vijayawada Jodhpur Madurai Raipur Kota Chandigarh Guwahati Solapur Hubli–Dharwad Mysore Tiruchirappalli Bareilly Aligarh Tiruppur Moradabad Jalandhar Bhubaneswar Salem Warangal Mira-Bhayandar Jalgaon Guntur Thiruvananthapuram Bhiwandi Tirupati Saharanpur Gorakhpur Bikaner Amravati Noida Jamshedpur Bhilai Cuttack Firozabad Kochi Nellore Bhavnagar Dehradun Durgapur Asansol Rourkela Nanded Kolhapur Ajmer Akola Gulbarga Jamnagar Ujjain Loni Siliguri Jhansi Ulhasnagar Jammu Sangli-Miraj & Kupwad Mangalore Erode Belgaum Kurnool Ambattur Rajahmundry Tirunelveli Malegaon Gaya Udaipur Karur Kakinada Davanagere Kozhikode Maheshtala Rajpur Sonarpur Bokaro South Dumdum Bellary Patiala Gopalpur Agartala Bhagalpur Muzaffarnagar Bhatpara Panihati Latur Dhule Rohtak Sagar Korba Bhilwara Berhampur Muzaffarpur Ahmednagar Mathura Kollam Avadi Kadapa Anantapuram Kamarhati Bilaspur Sambalpur Shahjahanpur Satara Bijapur Rampur Shimoga Chandrapur Junagadh Thrissur Alwar Bardhaman Kulti Nizamabad Parbhani Tumkur Khammam Uzhavarkarai Bihar Sharif Panipat Darbhanga Bally Aizawl Dewas Ichalkaranji Karnal Bathinda Jalna Eluru Barasat Kirari Suleman Nagar Purnia Satna Mau Sonipat Farrukhabad Durg Imphal Ratlam Hapur Arrah Anantapur Karimnagar Etawah Ambarnath North Dumdum Bharatpur Begusarai New Delhi Gandhidham Baranagar Tiruvottiyur Pondicherry Sikar Thoothukudi Rewa Mirzapur Raichur Pali Ramagundam Silchar Haridwar Vijayanagaram Tenali Nagercoil Sri Ganganagar Karawal Nagar Mango Thanjavur Bulandshahr Uluberia Katni Sambhal Singrauli Nadiad Secunderabad Naihati Yamunanagar Bidhannagar Pallavaram Bidar Munger Panchkula Burhanpur Kharagpur Dindigul Gandhinagar Hospet Nangloi Jat Malda Ongole Deoghar Chapra Puri Haldia Khandwa Nandyal Morena Amroha Anand Bhind Bhalswa Jahangir Pur Madhyamgram Bhiwani Berhampore Ambala Morbi Fatehpur Raebareli Khora, Ghaziabad Chittoor Bhusawal Orai Bahraich Phusro Vellore Mehsana Raiganj Sirsa Danapur Serampore Sultan Pur Majra Guna Jaunpur Panvel Shivpuri Surendranagar Dudhrej Unnao Chinsurah Alappuzha Kottayam Machilipatnam Shimla Adoni Udupi Katihar Proddatur Budaun Mahbubnagar Saharsa Dibrugarh Jorhat Hazaribagh Hindupur Nagaon Hajipur Sasaram Giridih Bhimavaram Port Blair Kumbakonam Bongaigaon Dehri Madanapalle Siwan Bettiah Ramgarh Tinsukia Guntakal Srikakulam Motihari Dharmavaram Medininagar Gudivada Phagwara Pudukkottai Hosur Narasaraopet Suryapet Miryalaguda Anantnag Tadipatri Karaikudi Kishanganj Jamalpur Ballia Kavali Tadepalligudem Amaravati Buxar Tezpur Jehanabad Aurangabad Gangtok Vasco Da Gama